Quote:
Originally Posted by
vwengineer
It's most likely a NAR vs ROW thing or the fact that it's a 2005. I replaced the master cylinder and there was no bypass. Maybe if you change it to ROW in engine and/or instruments with VCDS it would change this behavior?

I am thinking that a bypass would not be a good idea if your car is equipped with cruise control as clutching in disables it (not sure how ŗ bypass works though)?
The bypass I am referring to is the clutch pedal switch F36 or G476 Clutch position sensor G476, I am sure that you have one. Number 12 in pic.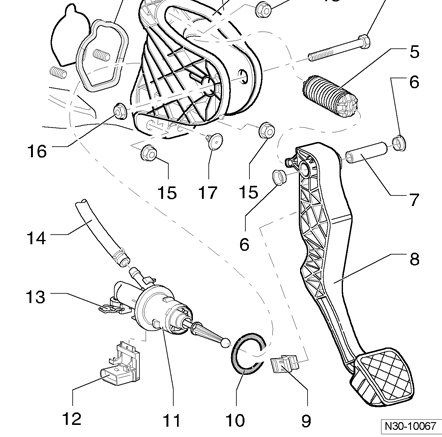 This is the bypass that can be installed so you can start a manual car without pushing in the brake pedal, perhaps the previous owners installed one. What does your owners manual say about starting a manual car??
Push Clutch To Start Bypass Harness (VW Audi Seat Skoda VAG Clutch)
"Cruise control functions, and over-rev protection are still kept fully functional"
https://www.ebay.com/itm/Push-Clutch...sAAOSwLEtYjFyq