Sort of a big update , since I've done some things and haven't posted yet
First this box came
Then i installed it , first time ever installing an intake into my car , usually the cars i buy end up already having one so this was a first.. And I'd say cause of the size of my large hands and the space given by the inlet pipe its a 3/10 job on the difficulty scale. The only hard part was getting the clamps and hoses on correctly.
After installing it I've had some vibration upon acceleration.
Posted a thread about and did more searching but still cant seem to alleviate the issue
Here is after the install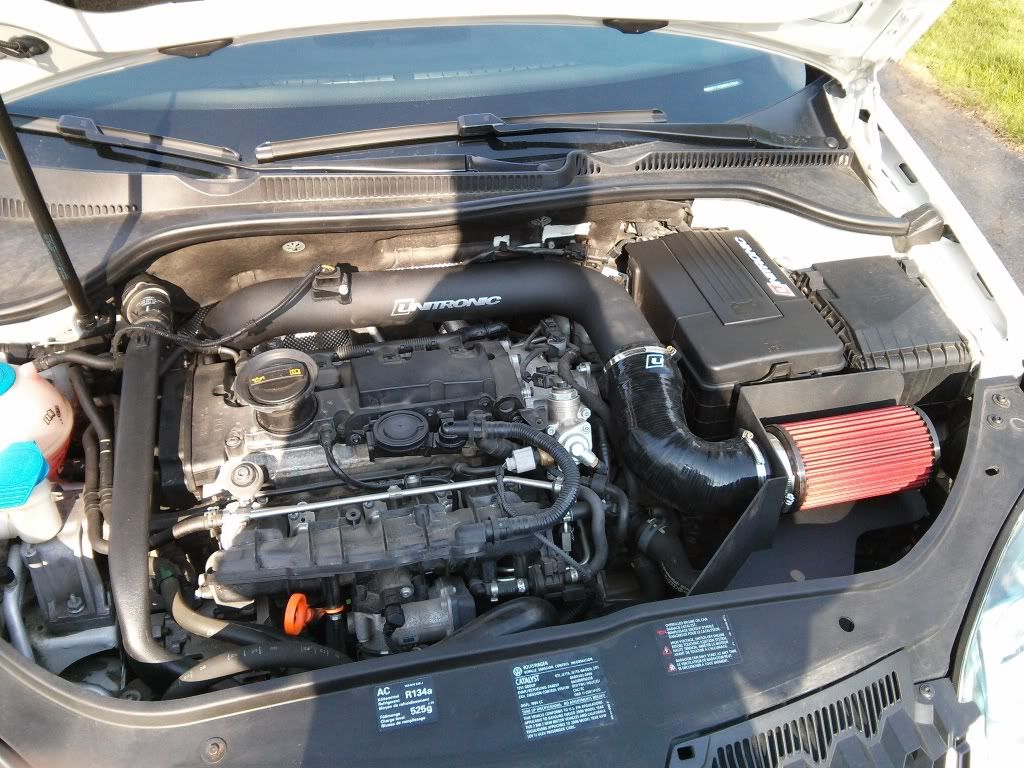 I went with unitronic when i originally wanted a wintake but couldn't ever find out if the fuel trim and maf issues were ever fixed , didn't like the looks of bsh or pflow , for ~$380 shipped my car definitely feels faster and about 1-2 mpgs have been gained
Then i decided that new wheels were wanted but the funds weren't there yet.
So until i get the cash flow for new tires and wheels I've set to plastidipping my wheels.
Which now has become a tradition for me , my mkiv 3years ago had black wheels, my Crossfire Coupe had black , my Mini Cooper S i did black with a gold metallizer and now mkv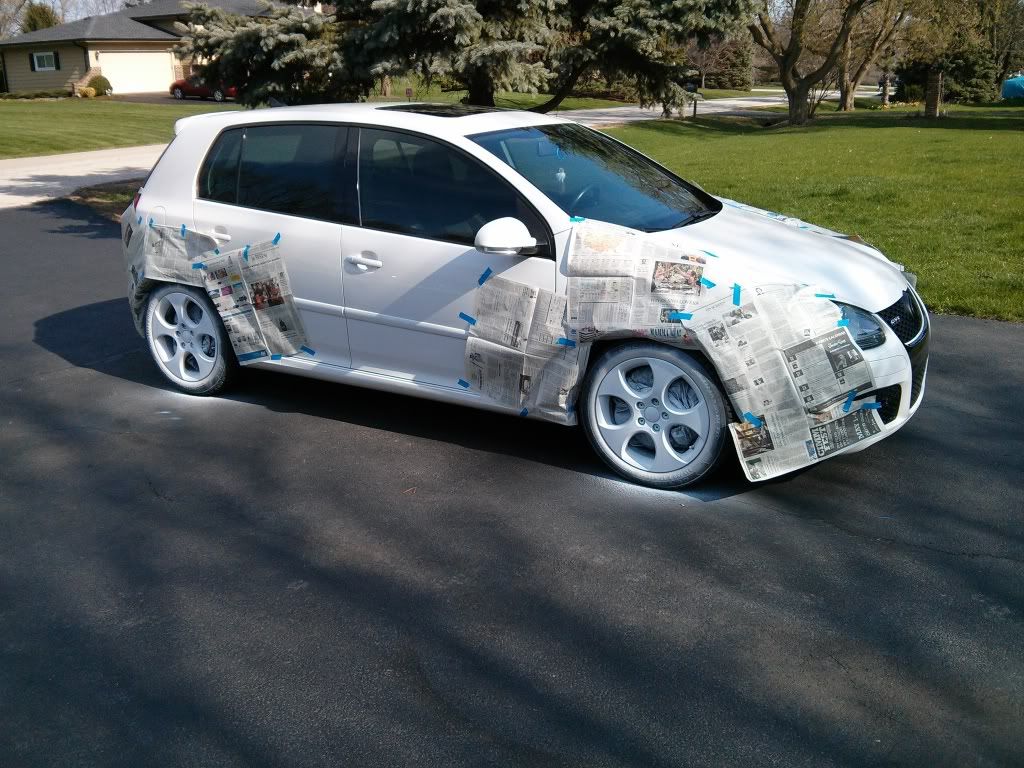 I had about 12 cans of white because before i ditched the project ,i was gonna pdip my mini in matte white but then i decided to hold off till spring , which then i traded the car for my gti so i figured I'd use the white to provide a better base coat for the black ..tbh i was digging the white wheels but the Denver is not the wheel i want in white.
Anyway did 2 light coats and 2 heavy coats of white. than 2 medium of black and 1 heavy final coat of black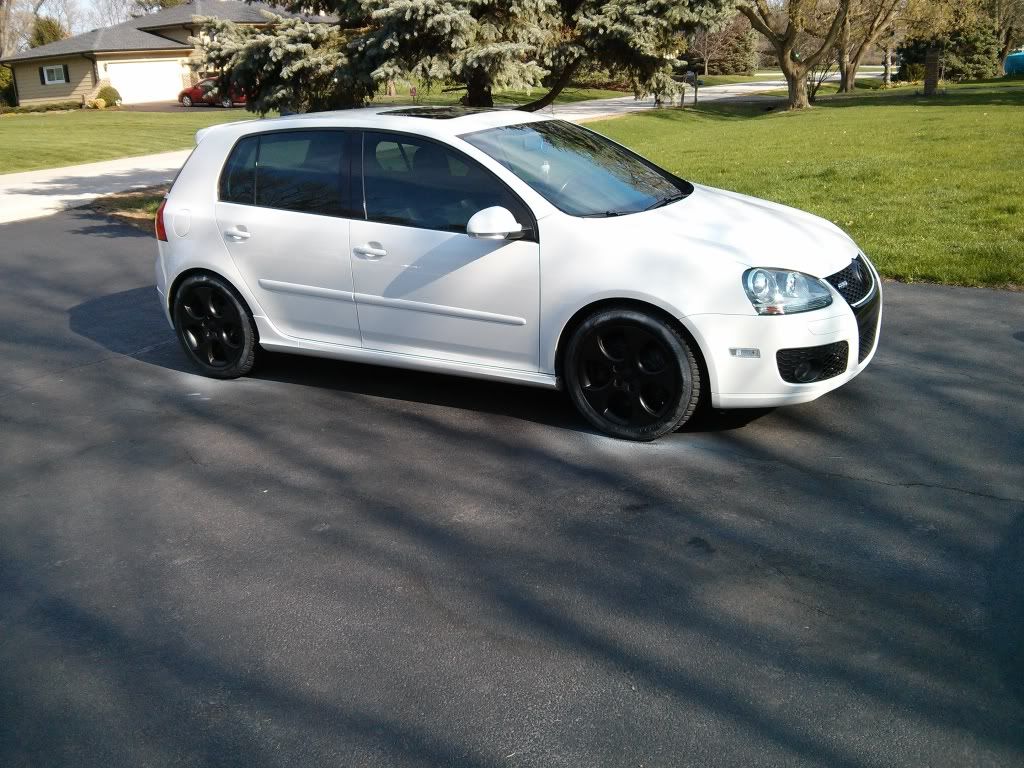 (That's before i peeled the dip from the tires and removed the bags from the brakes )
58000-
first oil change And DSG fluid change
The dsg change is pretty pricey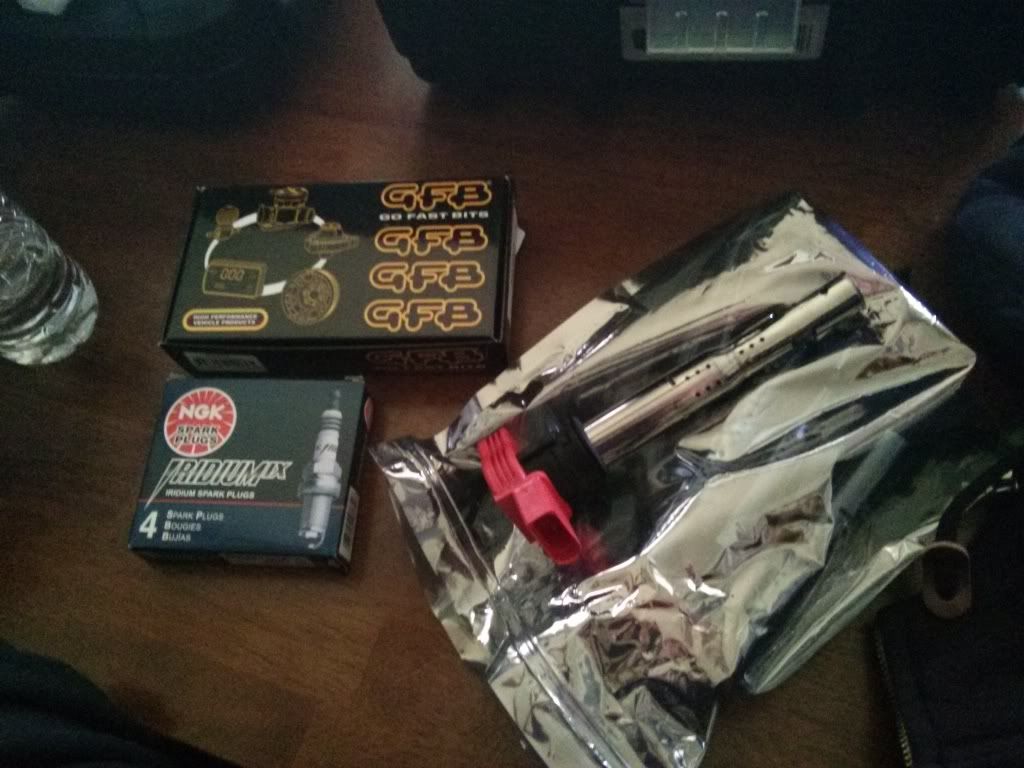 Gfb DV+ , new coils and spark plugs actually put those in today as in posting this.
Was waiting forever on a torque wrench i bought on eBay
This was my first time ever doing a spark plug job and to be honest wasnt that difficult , it was actually harder get the coil pack harness off coils than anything else. The shitty part was i waited two weeks for the torque wrench from eBay and when i got to doing the spark plug job i forgot to bring it with me so all the plugs ATM have been hand tightened then followed by 2/3 turn so tommorow morning i need to torque them down properly and tbh i hope it helps. Cold starts have been followed by slight trembles at red lights when I'm below operating temps.
Cylinder 3 was black on top , the other three plugs were still good , so I'm assuming this was plug that may have been causing any slight misfire , but no codes so it may just be in my head
My fuel economy seems to have jumped about 3-5 mpgs , was doing and average of 65-75 mph from Elgin to Chicago (60% in cruise control) and was getting 35-40 mpg range the whole way
58200-
coils and spark plugs changed
I've only gotta put the DV+ plus in and waiting for my programmer from DM .
Looking forward to stage one but i just hope the DV+ doesn't crap out on me like I've seen in some threads
Next up mods :
Downpipe w/ cat probably going to go with Eurojets
Considering EJ's FMIC as well
New wheels (eventually)
Upgrade to either OEM Euro LED tails or R32 euro tails
After all that probably stage 2
That will probably be all done by winter , unless i get a second job Lol