Made a couple quick and easy upgrades to my car last week. I was having an issue on the highway of the car dancing side to side on uneven or graded. I noticed it this winter, but attributed it to snow tires and poor roads. Once I swithed back to my summer wheels, it got worse!
My car has over 200K on the chassis so the rubber bushings are pretty worn. The worst culprit in these care is always the front control arm bushing on the rear of the arm. I upgraded to the Meyle HD bushings, I didn't want to add any more road noise up front as I already have plenty with my Ground Control camber plates, so I wanted to stick with rubber, but get the best one I could get. The new bushings set cost about $150 online.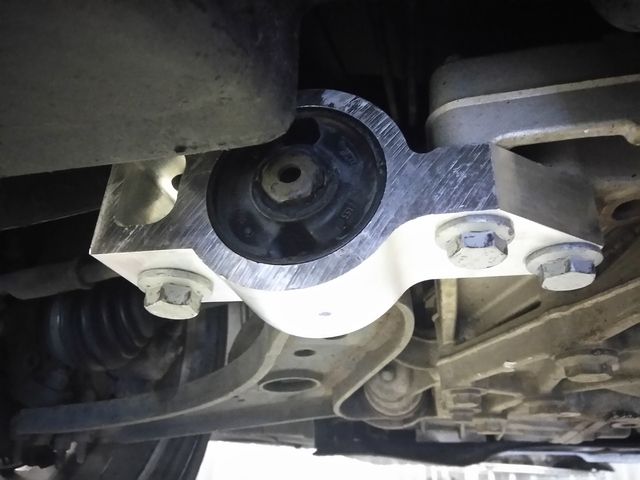 Next up was one of the other major contributors to suspension movement in this car, the trailing arm bushings. Stock, these are very soft, tack on 200,000mi and they are toast! When I popped out the trailing arms, I could wiggle the bushing with almost no force, and it moved probably 1/2" or more with ease! For this bushing, I chose the Super Pro trailing arm bushing kit (~$75). Installation on these was super easy with a press, and in under and hour I had the trailing arms re-installed.
Overall the upgrading of the new bushings was a fantastic upgrade. The front control arm bushings increased the steering response greatly, the car does not feel mushy in the front end anymore. Steering response is crisp and predictable, and the car tracks very well when settled into a corner. On the rear end, the first thing I noticed was a increase in ride quality. The new bushings allow completely free movement of the trailing arms and greatly softened the feel of the rear suspension over larger bumps. The rear of the car feels much more settled in corners as well. I am also happy to report the dancing issues I was having have been greatly reduced. I am going to be replacing the tie rod ends and ball joints soon also, hoping to completely eliminate the issue.